Add To Favorites




Scented Candles~Custom Pillar Candles~Floating Candles~Wholesale Candles~Candles Etcetera~Floater Candles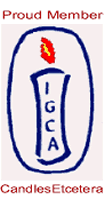 CandlesEtcetera Custom Photo Gallery
To see larger version- click picture.
Custom Candles- By CandlesEtcetera- Here we are showcasing some of our custom candle orders. Any questions, or if you want a consultation for custom candles email us Customer Service

Or see our NEW Site where we have some of the candlse listed here and prices- all candles are customizable for your decor

CUSTOM LARGE PILLAR CANDLES

Chunked Pillar

3.5 FT Layerd Pillar

1-21 Birthday Candle

Candle Group

3 FT Candle"

3 FT W/ Tealight

6X18 CUSTOM DYE

3FT LAYERED CUSTOM

20" CRYSTAL LOOK

TEALIGHT INSERTS


24" Pillar

18" SQ. MEGA-CUSTOM




24" Pillar Candle




Family Unity Candle




24" Pillar Chunks




Hand Craved-DoubleDip Pillar

Custom Candle Tins


Custom Unity Labels

Wedding Lables



3ft.x 2 ft. Candleoria



13" x 11" 50th Candle

Custom Oranges

Custom Wedding Candles


18" SQ. MEGA-CUSTOM
3x10, 3x12, 3x15 Pillars Classic- Chunk Pillar Candles Gift Idea's
Natural Crystal Pillar Candles
Balls, Tapers, and Small Pillar's -Great for Decorations


***Never leave a candle burning unattended!
Proper burning and care of candles is a must to enjoy the candles!
CandlesEtcetera will/may not be held responsible for problems
due for improper care of candles,or improper burning of candles.


Problems with this page email webmaster webmaster
All information contained in these pages- Copyrighted to CandlesEtcetera Candles & Accessories, LLC.- All Rights Reserved 2000-2012