Add To Favorites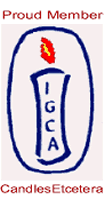 SOY VS PARAFFIN- FACTS NOT FICTION
WE HAVE DECIDED TO GIVE YOU FACT VS FICTION ON THE REAL DEAL WITH SOY CANDLES. WHILE WE MAKE AND ENJOY SOY OURSELVES, WE ALSO MAKE AND ENJOY PARAFFIN CANDLES. BELOW YOU WILL FIND THE FACTS..TRUTHS WITHOUT THE HYPE AND FALSE STATEMENTS MADE ABOUT BOTH TYPES OF CANDLES. WE DO NOT ENDORSE EITHER TYPE .WE INCLUDED LINKS TO OUR SOURCES AT BOTTOM
CandlesEtcetera is not employed, financed or have any stake in the paraffin or soy market- we are by definition- CandleMakers Only.
Misconceptions on Waxes

Soy wax is biodegradable - paraffin wax is not? FALSE
A . Studies have shown that beeswax, paraffin and vegetable-based waxes (soy) are biodegradable. The vast majority of candles today are made primarily from these waxes.

Is soy wax (vegetable based wax) water soluble? NO
A . No. By definition, a wax is not soluble in water.

Soy wax candles produce NO soot and paraffin wax does? FALSE
A . There is no such thing as a soot-free wax. All organic compounds when burned will emit some carbon (soot) due to incomplete combustion. Sooting is primarily a factor of wick length and flame disturbance.

If all candles produce soot- is this harmful to me or my family and friends?
A . NO- The minuscule (tiny) amount of soot produced by a candle is the natural byproduct of incomplete combustion. Candle soot is composed primarily of elemental carbon particles, and is similar to the soot given off by kitchen toasters and cooking oils. These everyday household sources of soot are not considered a health concern, and are chemically different from the soot formed by the burning of diesel fuel, coal, gasoline, etc. No candle wax has ever been shown to be toxic or harmful to human health

What causes a candle to soot or smoke?
A. A well-made candle will create virtually no smoke when burning properly. However, if the wick becomes too long, or an air current disturbs the flame's teardrop shape, small amounts of unburned carbon particles (soot) will escape from the flame as a visible wisp of smoke.
Any candle will soot if the flame is disturbed regardless of the wax used.
To avoid this, always trim the wick to ¼ inch before every use and be sure to place candles away from drafts, vents or air currents. If a candle continually flickers or smokes, it is not burning properly and should be extinguished. Allow the candle to cool, trim the wick, make sure the area is draft free, then re-light.

Is Paraffin Wax TOXIC? Absolutely NOT-
A .No. Paraffin wax – like all candle waxes - is non-toxic. In fact, paraffin is approved by the U.S. Food and Drug Administration for use in food, cosmetics, and medical applications. Food-grade paraffin is commonly used for manufacturing candles. While the soy industry has continually stated that paraffin wax is in fact toxic- not one governing board- candle association or the FDA have found paraffin candles to be toxic- which leads one to think if paraffin was in fact toxic the FDA would have put out notices etc.

Are Scented candles safe?
A . Yes. When a candle burns, the wax is drawn into the wick, where it is "consumed" by the candle flame to produce water vapor and carbon dioxide. The only difference with a scented candle is that a small amount of fragrance is released as well.
Reputable candle manufacturers use only fragrances that are approved for burning in candles. They also carefully monitor the addition of fragrance to ensure that the candle will burn cleanly and properly

Soy wax helps farmers in the US? False
Most soy waxes are actually imported from other countries- the soy american farmers make and sell rarely makes its way into soy wax used here in the us.
MINERAL OILS (MEDIUM- AND LOW-VISCOSITY) AND PARAFFIN WAXES

Neither the National Candle Association nor the Environmental Protection Agency site any of the false advertising claims given by the soy candle makers. There is not one governing body that says paraffin is toxic, or that paraffin candles are bad for people, or that soy is healthier than paraffin or that US Farmers are being helped by the sale of SOY. Not one single governing body has provided this information. These claims are falsely made by the soy wax candle makers in a effort to scare the public into buying their candles. While we use all types of wax in our applications- we find the scare mongering that is going on with soy candle makers to be at best- laughable and is in its own right- false advertising! Palm wax- the newest wax to hit the market is a beautiful burning candle that often is mistakenly called SOY. Palm wax is derived from the oil of a palm plant and has absolutely nothing to do with soy. We urge those who continue to perpetuate these myths to do right by the candle industry and our patrons who rely on us to know the facts versus the myths.
WAX FACTS

Over the centuries, candle waxes have been developed from a variety of fats, oils and waxy-like substances derived from animals, insects, plants and rocks.
Scientists consider "wax" to be a generic term for classifying materials that have the following characteristics:
Solid at room temperature; liquid at higher temperatures
Primarily hydrocarbon in structure
Water repellent; insoluble in water
Smooth texture; buffable under slight pressure
Low toxicity; low reactivity
Low odor
Waxes are widely used throughout the world for a wide range of applications, including packaging, coatings, cosmetics, foods, adhesives, inks, castings, crayons, chewing gum, polishes and - of course - candles.
All waxes are primarily hydrocarbons, whether the wax is of animal, vegetable, or petroleum origin. The chemical composition of all waxes used for candle-making is similar, and all candle waxes burn in the same manner .
No specific type of wax or wax blend is considered "best" for candlemaking. All candle waxes - when provided in high-quality format - have been shown to burn cleanly, safely and in the same manner.

Fact: Soy is a serious known allergen, paraffin is not.
Soy or Soya is considered one of the most important food allergens. Thus soybeans and products thereof are listed in annex IIIa of the EU directive on labelling of foods. It is also listed as a major food allergen by the FDA (USA) labelling regulations. Paraffin is not.
source:
http://foodallergens.ifr.ac.uk/food.lasso?selected_food=50
LINKS